Book: Declan
Series: Wounded Heroes #1
Genre: Military/Suspense Romance
Author: Ava Manello
Cover: Margreet Assleburgs
Hosted by:Francessca's Romance Reviews

Synopsis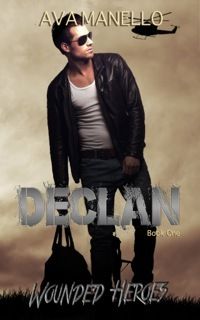 War almost destroyed them, but they survived thanks to their brother in arms Declan.

Coming home wasn't as sweet as they'd hoped, lives had moved on without them. For one it was all too much.

United by grief and angered by injustice the Wounded Heroes vow to always be there for each other.

Little do they know that's going to come sooner rather than later.

Add To Goodreads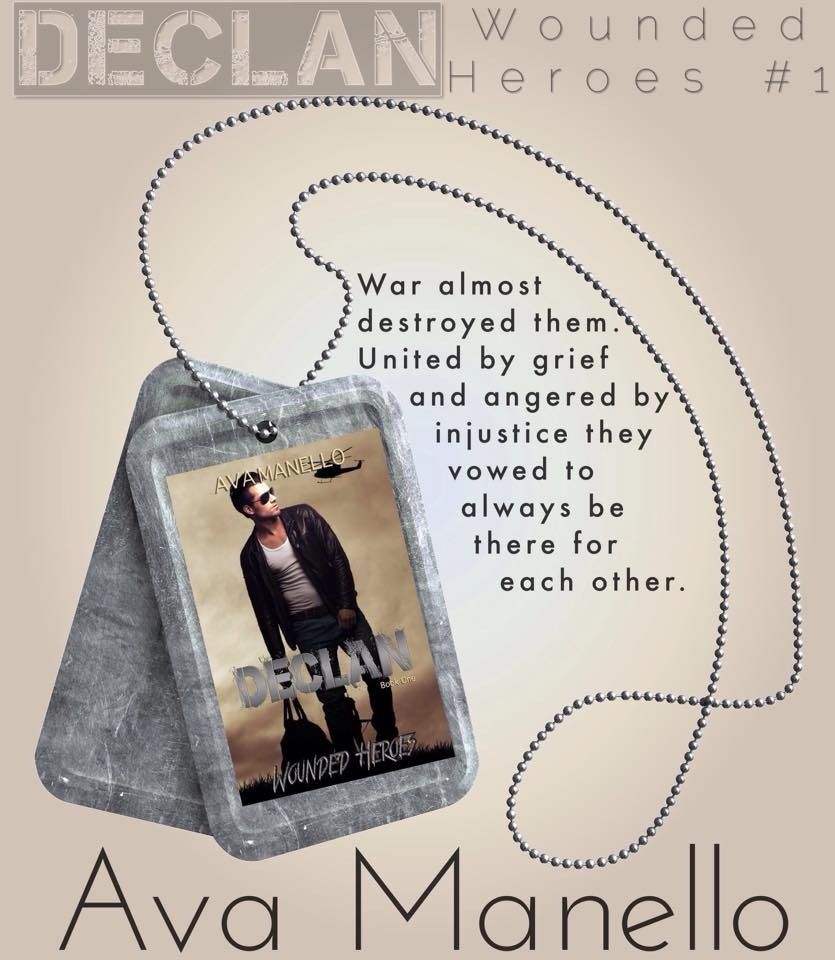 Excerpt

The touch of my fingers sends a small tremor through her. I try to keep the massage firm, yet tender. I can already see some of the tension leaving her body. She groans as I knead the hard knot at the base of her neck. This past week has been a living nightmare for all of us, but especially her and the stress has really knotted her neck and shoulders.

My hands leave her skin for a moment as I reach for more body lotion. She moans in protest. There's a delicate hint of coconut in the air as I warm it in my hands before applying it at the base of her spine.

I knead up and down her back, leaving a trail of warmth where I've passed. I can feel my cock twitching in my tight boxer briefs, begging to be let loose. It's been too long since I allowed myself that particular pleasure. After everything that's happened I wasn't sure it would show interest in sex again, I'm pleased that it is, but I can't. Not here. Not now.

Georgia is laying face down underneath me, dressed only in skimpy briefs so that I can massage her back. My legs are astride hers and I'm pretty sure she can feel my cock pushing against her. She says nothing though.

How the fuck did I find myself here? On this bed and in this position? This is my friend's widow for fucks sake. I need to show him some respect. I need to remember the man that he was, not the shell he had become. He sank so low that there was no coming back. That's why I'm here. We buried him today, so the last place I should be right now is in his widow's bed.

I couldn't ignore Georgia's scream though as she'd woken from a nightmare, or the fat tears rolling down her face. She's too young to be a widow; she's not even forty. She has her whole life ahead of her. I'd consoled her by drawing her into my arms, sitting on the edge of the bed and pulling her close. She'd whimpered when my hand touched her back. The downside of living with Max for these past few months had been the abuse. She may have outgrown most of the bruises but the residual pain was still there.

I'd offered her a back rub in my innocence, and that's how I came to find myself here now, sitting on top of her and desperately begging my cock to go back into its usual state of stupor.

There's something sensuous about caressing a woman's skin, and it's turning me on. As awful as it sounds it helps that I can't see Georgia's face. I couldn't do this if I looked her in the eye. I need to just pretend she's some anonymous stranger if I've any chance of getting through the rest of this night.

Georgia moans as I release a particularly deep knot in her shoulder, but it sounds more like a moan of passion than relief.

"Declan," she pleads. "I need you. I need this." She whimpers.

"I can't." I whisper back. "I can't do it to Max." I apologise.

"Fuck Max." She hisses. "He didn't give a shit about either of us these past few months. I need this." She pauses. "And from the feel of your cock digging into my ass you need it too." She reasons.

She's right. I do need it. But I can't.

"I can't look you in the eye." I apologise.

"Then don't." She reasons. She reaches down behind her, pulling her almost non-existent underwear down and raising her ass slightly. I can see her glistening pussy. She's wet for me and I know for sure that my cock is hard for her.

I dismiss the guilt from my mind and release myself from my boxer shorts. Without allowing myself time to think about it I push into her. Fuck! That feels so good. It feels so tight and deep. I pause for a moment just enjoying the sensation, and Georgia lets out a loud groan of satisfaction.

"That feels fucking amazing." She almost purrs.

Slowly I move in and out of her, each time it feels like I've gone deeper than the last. Her legs are trapped together between mine by her shoved down underwear and her ass is gripping tightly to my cock as I move in and out.

She moves a hand to caress my leg. I stop her by holding her arms down. From the satisfied moans she's making, it's clear she likes that. Her face is almost hidden in the mattress, the pillow already tossed aside. She's got short hair, I want to grab hold of it and pull her head back each time I push into her, but it's too short for that. It's just long enough to hide her face, and that's probably a good thing. If I saw her face right now I suspect my cock would deflate faster than a popped balloon.

The only sounds in the room are the slap of flesh against flesh as my movements become stronger as do our mutual groans of pleasure. I slap her ass sharply, and when she doesn't protest I do it again. She's pushing her ass back up against me, silently begging for more. I give it to her.

That's when it all goes to shit. I'm having the best sex I've had in months, fuck it I'm having the only sex I've had in months, when I hear it.

A car backfires outside and I lose it. Suddenly I'm not in this suburban bedroom; I'm back in Afghanistan the day it happened. I can feel the heat, taste the sand in my mouth, and hear the screams of the other guys.

I snap out of it, just in time. My hands are round Georgia's neck and I'm strangling her. She can barely breathe, let alone make a sound and her face is going a shade of purple. I release my hands quickly.

Georgia draws in a deep gulping breath of air before collapsing back down to the mattress and taking shallow breaths.

"What the fuck!" She croaks, her voice barely there and raspy.

What do I say; how the fuck do I explain the nightmare that I live constantly? I can't. Instead I do the most dick move possible. I pull out of her and rush from the room without explanation.

Within minutes my bag is packed and I'm gone. Driving to an unknown destination in the dark of the night. I didn't even say I was sorry.

I'm not sure where to go so I just drive. I'm not fit to be around normal people. Something broke in me out in Afghanistan, and I'm not sure I can ever be mended.

So I drive, and wait to see where the road takes me.




Purchase Links

Amazon UK
Amazon USA
Amazon CA
Amazon AU
Google Play
iTunes
KOBO
Nook





About The Author




Passionate reader, blogger, publisher, and author. I love nothing more than helping other Indie authors publish their books be that reviewing, beta reading, formatting or proofreading,

I love erotic suspense that's well written and engages the reader, and I love promoting the heck out of it over on my book blog.

I'm a mother, but most of all I'm me!


Stalk Me

Twitter
Facebook
Goodreads

Other Books by Ava




Strip Teaser
Naked Nights #1

Purchase Link

Barnes & Noble
Kobo
Amazon UK
Amazon USA

Strip Back
Naked Nights #0.5

Purchase Links

Amazon CA
Amazon AU
Amazon UK
Amazon USA

The Black Basque




Purchases Link

Amazon UK
Amazon USA

The Non Adventures of Alice the erotic author




Purchase Links

Amazon UK
Amazon USA

Severed Series




Severed Angel
Severed MC #1

Purchase Links

Amazon UK
Amazon USA
KOBO
Barnes & Noble
iTunes

Carnal Desire
Severed MC #2

Purchase Links

Amazon UK
Amazon USA
KOBO
Barnes & Noble
iTunes

Severed Justice
Severed MC #3

Purchase Links

Amazon UK
Amazon USA
KOBO
Barnes & Noble
iTunes

Carnal Persuasion
Severed MC #4

PURCHASE LINKS

Amazon UK
Amazon USA
iTunes
KOBO
Barnes & Noble


GIVEAWAY

a Rafflecopter giveaway